Today I'd like to talk about cabinet glazing.  Let's discuss what cabinet glazing is, why you would choose a glazing option, compare it on paint versus stain,  talk about the type of door styles that suit glazing best, and discuss it's uniqueness and what your expectations should be if you choose a glazing option.
Glazing is an artisan technique used to add richness and depth to cabinet doors. The glaze is saturated over the already painted or stained surface and then hand wiped off, leaving hints of it in any grooves.  Then, by hand, each door is customized by working the glaze with a brush over the door.  Hand glazing is a done by a craftsman.  It really is a work of art on each and every door.  Brush strokes and small nuances are therefore inherently created for an overall affect of beauty.
As you know, beauty is in the eye of the beholder.  Therefore, choosing glazing is a subjective process.  What one may think is beautiful another may not find pleasing.  Glazing creates a unique product, which adds an effect that creates a less formal, more lived in look.  If you appreciate that style and the work that goes into products you purchase, then glazing may be the perfect choice for you.
As I mentioned before glazing adds richness and depth to your cabinet door.  Look at this photo showing a stained cabinet first without glaze and then with glazing added to it.
​You'll notice that the glazing accentuates the grooves and seams and draws these subtleties to your attention.  It also darkens the original stain base.  The non-glazed door is lighter and more uniform and those grooves blend instead of standing out.

Now see a paint without the glaze and then again with a glaze. You'll notice that the base paint color is not darkened as much as with the stain.  The paint has already penetrated the wood and therefore the glaze sits atop of the paint.    Although the base color does not darken as much as in a stain application, the grooves are even more enhanced with with glaze applied.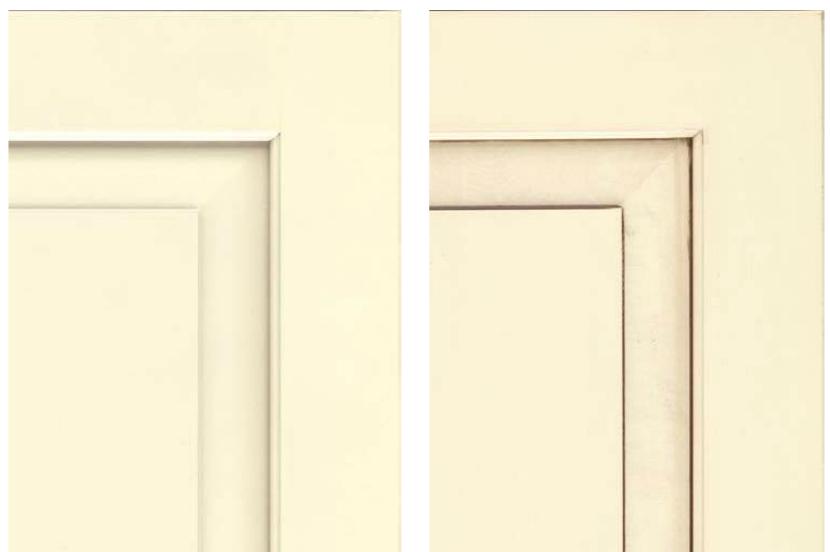 If glazing is for you, then you'll want to carefully choose a door style based on how the glaze will highlight your door.  Door styles with more detail and groves will of course show more glaze. Please see the detail depiction below.
The red lines show where glazing will be evident on this door style. The pictures are of one door style each.  It shows the door only, the door with a 5-piece draw head, and the door with the standard slab drawer head. Notice how the drawer head you choose will also make a big impact.  A 5-piece drawer head is recommended if you are choosing glazing.
Lastly, let's discuss the uniqueness of glazing and what you should expect if you opt to add glazing to your cabinets.  Glazing is a hand-crafted art.  This is not a uniform process and you should expect that each door will have it's own unique subtleties.  Be sure you have seen a representation of the stain/paint and glaze together to be sure it is pleasing to you.  Talk with your designer about achieving the overall look you want.  That includes choosing the drawer head and thinking about exposed ends of cabinets.  When choosing glazing, decorative panels that are basically affixed doors will typically add to the overall look.
Enjoy these videos from two of our partners, discussing their entire finishing process.