When it comes to projects within your home, both kitchens and bathrooms boast a cult following, and with good reason. The kitchen is the place where you likely spend a lot of time cooking and entertaining your family and friends, so it's good to have a space that fits all of your needs right down to a larger prep zone, a double-oven, or a pot filler you've been coveting. The bathroom, on the other hand, is your personal prep zone for your day and special events and can be a mini-retreat to assess the day and practice self-care, so naturally, you need a bathroom design that awakens and connects you to your true self the moment you step inside. Having features such as heated ceramic tiles right down to the final touches of beautiful bathroom hardware lets you escape, if only for a moment.
At Corner Cabinet, our designers will help you create kitchen and bathroom remodels that fulfill your needs while satisfying your wants. It can be a difficult decision to figure out which remodel to do first, so we've put together a guide to help assist you in the different aspects of each to help you make the most informed decision.

Which Remodel Do You Tackle First? Bathroom or Kitchen?
In an ideal world, you would be able to craft the perfect kitchen and bathroom all at once while not interrupting your life at all! Wouldn't that be lovely? For ease, remodeling one at a time is probably best as it will save you from meltdowns and stress down the road. So which room you decide to go with first? Which one will have the biggest impact on resale value or is more budget-friendly? When you begin to make the big decision of what room to remodel first — bathroom or kitchen — consider a couple of things before you go all in.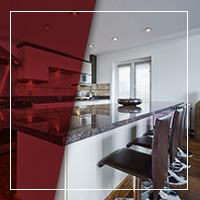 Which brings the greater resale value? – In the design industry, opinions may differ, but the kitchen usually brings greater resale value. If you're in a home you hope to sell in a couple of years, a kitchen remodel is a good place to start. The kitchen is the heartbeat of the home, and it's where people come together over food and share life together. After all, what is the first question you ask as a homebuyer? It's often "what does the kitchen look like?"
Which remodel is more budget-friendly? – Bathrooms are more budget-friendly of the two simply because they're typically a smaller space and have fewer features than a kitchen. According to a US Houzz Kitchen Trends Study, the average kitchen remodel will cost you between $25,000 and $50,000. Bathrooms, on the other hand, cost around $5,000 to $10,000.
Which remodel is less disruptive? – Having a less-than-functional bathroom or kitchen makes bathing and eating a little tougher around a remodel, but a kitchen may be slightly less disruptive. In a kitchen, you can work around different phases of the remodel and you have alternatives such as eating out, utilizing your outdoor space to grill and dine on a patio or deck, and to create a temporary kitchen set-up with a coffee-maker, microwave, toaster oven, and a hot-plate. A great tip for success during this period is to keep it light and fun, by alternating your options.  Visit that new restaurant, take the kids to the park on a picnic, dine at a friends house, or try a new grill recipe.  A little pre-planning and the right attitude can make this time a break from your regular routine and much more fun than mundane. A bathroom, however, is generally out of commission for the entirety of the remodel, and there are no alternative options except for using another bathroom (if available).
While a bathroom or kitchen remodel are both excellent choices and will make the aesthetics of any home shine, use the above considerations when making the decision to go forward with one. Take into account the resale value, the average cost for both, and which remodel is less disruptive and makes the most sense to your everyday life. Once you've made that decision, you can work with a designer to come up with a design that checks off the wants and needs boxes — from rough chic cabinets to alluring bathroom hardware.
To take advantage of the latest trends and products in the cabinet industry connect with one of our talented designers today!